Components of a Commercial Roofing System
Filed under: Blog, Commercial Roofing
Comments: Comments Off on Components of a Commercial Roofing System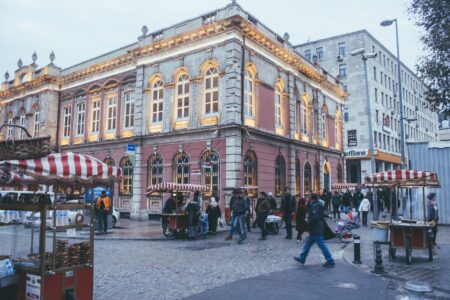 The roof on a commercial building consists of several key components that work together to protect the structure from rain, snow, and wind. If one or more of the components of a commercial roofing system is damaged, it can lead to a leak that can damage both the building and its contents. If you're concerned about the condition of the roof on your commercial building, LaBrusciano Roofing & Exteriors can conduct an inspection and perform necessary repairs or replacement.
Key Parts of a Commercial Roofing System
A commercial building's roof has one or more weatherproofing layers that serve a critical function. They provide a protective barrier that keeps water from rain and melted snow out of the roof assembly.
A commercial roofing system needs reinforcement. This gives the roof additional strength and dimensional stability and helps it resist damage from punctures.
Surfacing provides another layer of protection by shielding the weatherproofing and reinforcement layers from rain, snow, and the sun's UV rays. Some commercial roofs have surfacing that can also protect the roof from hail and fire and can reflect sunlight.
Get a Quote for Commercial Roofing System Repair or Replacement
If the roof on your commercial building is leaking or has other signs of damage, it's important to have it repaired as soon as possible. Roof damage that isn't fixed right away can get much worse the next time it rains or there is a sudden gust of wind.
LaBrusciano Roofing & Exteriors has been serving both commercial and residential customers across Pennsylvania for more than a decade. We can inspect your roof, assess the scope of the damage, and recommend the best course of action. Our team of highly trained roofers can repair the roof on your commercial building or replace it, if necessary.
We use products made by CertainTeed, an industry leader, and our installers are CertainTeed Master Shingle Applicators. LaBrusciano Roofing & Exteriors has earned a reputation for providing our customers with quality work at reasonable prices. Call us today at (610)624-8850 to schedule an appointment to have your commercial roofing system inspected and to get an estimate for repairs or replacement.