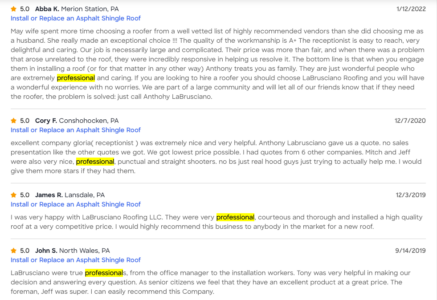 If your roof is damaged or worn out from years of exposure to the elements, your home's interior can become damaged, and you can find yourself paying higher and higher utility bills. Before you hire a contractor to repair or replace your roof, you should do some research. Here are tips on how to choose a roofing company.
Look for a Well-Established Local Business
Focus on roofing companies that have been in business for a while. An established company will have done lots of work in the local community and have many reviews from nearby residents. Reading roofing reviews will give you a sense of homeowners' experiences with the company. Check for insights about the company's professionalism and communication as a way to understand the value you're getting for an estimate.
Make Sure the Company Meets High Standards
Installing or repairing a roof is complex work that requires a significant amount of training, the right tools, and attention to detail. Some companies that offer roofing services don't hold themselves and their workers to high standards. Customers might find that problems aren't fully addressed, or shoddy repairs might leave homeowners facing the same issues again and again.
When you interview companies, ask about their training programs and certifications. A business that meets high standards will be happy to share that kind of information with you. For example, at LaBrusciano Roofing, we use only materials that are the gold-standard in the roofing industry, and our installers are certified by those materials companies.
Beware of Scams After Storms
If your roof gets damaged in a storm, make sure that you hire a reputable contractor to fix it. A new company or a business that's based in another state might offer to repair or replace your roof at a low price. Businesses often spring up quickly, target people when they're vulnerable, perform sub-par work, then disappear, leaving homeowners with leaky roofs and useless warranties. Research a company before you sign a contract so you don't fall victim to a scam.
Get a Quote from LaBrusciano Roofing & Exteriors
Now that you know how to choose a roofing company, you can look for local contractors and begin to narrow down your search. LaBrusciano Roofing & Exteriors has been serving homeowners across Pennsylvania for over a decade. Our installers are CertainTeed Master Shingle Applicators who meet high quality standards. Contact us today at (610) 624-8850 to request an estimate.