How Long Does a Roof Replacement Take?
Filed under: Roof Replacement
Comments: Comments Off on How Long Does a Roof Replacement Take?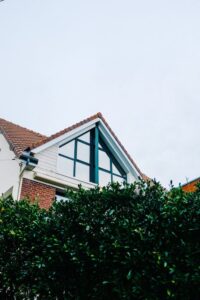 If your roof has been damaged in a storm or is leaking due to years of wear and tear, you want to get it replaced as quickly as possible. You're probably wondering how long does a roof replacement take.
Factors That Can Affect Your Roof Replacement
In many cases, installing a new roof is a straightforward job that can be completed in a single day. It's important to note that factors related to the property, the weather, and the time of year can make a project take longer.
Replacing the roof on a house with a simple design generally doesn't take long. If the roof has several sections with different angles, the job will be more complex. Things will also take longer if it's difficult for workers to get materials and tools to and from the house because it's located far from a paved driveway or there are bushes or trees in the way.
When contractors begin to tear off old roofing shingles, they sometimes discover damage that they didn't know about. If workers find that water has leaked under your old roof and caused rot or mold, that will have to be dealt with before they can install your new roof.
A roof replacement should be done when the weather is dry and the temperature is within a particular range. Replacing a roof in poor weather can lead to problems later. If your roof replacement has to be postponed due to weather, or if contractors have to stop earlier than planned due to rain, that will delay the project's completion.
The amount of daylight is another factor. In spring and summer, when days are longer, contractors have more time available to get a roof replacement done. If you need to have your roof replaced in fall or winter, workers might not have enough daylight hours to finish the job in one day.
Get an Estimate for Roof Replacement
LaBrusciano Roofing & Exteriors is a 5-Star CertainTeed SELECT ShingleMaster™ that has been serving customers across Pennsylvania since 2009. If your roof is damaged, contact us today at (610)624-8850 to discuss how long does a roof replacement take and to get an estimate.