When to Replace Your Gutters
Filed under: Gutters
Comments: Comments Off on When to Replace Your Gutters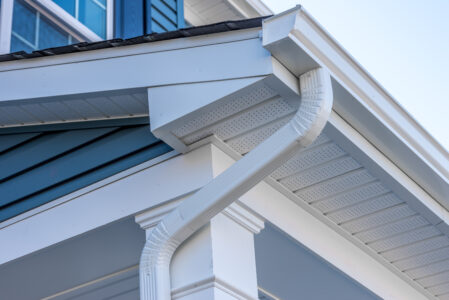 The gutters are designed to transport rainwater and melted snow to a location where it won't damage your house. Although gutters are durable and made to last a long time, they can wear out from exposure to changing weather, or they can get damaged in a storm. It's not always easy to tell when to replace your gutters, but these can be helpful clues.
Visible Damage to Gutters
You might see that sections of your gutters are cracked or rusted, or you might notice that several nails or screws have come loose. In some cases, you might be able to remedy the issue with simple DIY repairs. If the damage appears to be extensive, or if you try to fix a problem but it keeps coming back, it might be time to replace your gutters.
Gutters Are Sagging or Falling Down
This is easy to spot. If sections of your gutters are no longer securely attached to your house, the system can't function as it should. It's likely that the roof is also damaged, so simply reattaching the gutters won't fully address the issue. You'll need to have a contractor replace the gutters and repair any roof damage.
Yard Floods When It Rains
The gutters and downspouts are supposed to carry water away from your house. If water pools in one or more sections of your yard, that means there's a serious problem with your gutters.
Puddles of water can turn your yard into a soggy mess. If you have a basement and water collects near the house, you can find the lower level of your home flooded. Water can also attract insects, such as mosquitoes. Replacing the gutters can help you prevent a much larger problem in the future.
Get an Estimate for Gutter Replacement
LaBrusciano Roofing & Exteriors has a team of highly trained professionals who can replace your gutters. If your roof has been damaged, we can also make any repairs that are necessary so your new gutters can function correctly and last a long time. Call us today at (610) 624-8850 to schedule an inspection and find out if this is when to replace your gutters.