Who to Call for the Best Skylight Installation?
Filed under: Skylights
Comments: Comments Off on Who to Call for the Best Skylight Installation?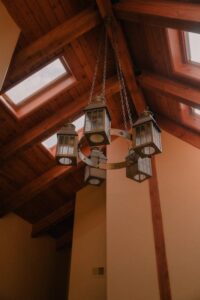 If you want to increase the amount of natural light and ventilation in your house, incorporating one or more skylights can be an excellent option. Installing skylights is a complex process that should be left to professionals. For the best skylight installation, you can trust LaBrusciano Roofing & Exteriors.
Why You Should Install Skylights in Your Pennsylvania Home
Skylights can add an air of style and sophistication to your house. They also offer practical benefits.
If you have a room with small windows, or no windows at all, skylights can brighten the space. Letting more natural light into your house can boost your mood and let you spend less on electricity.
In some cases, installing skylights is a better option than installing new or larger windows. If your house's architectural design would make it difficult or impossible to install windows, skylights can make it possible to have the natural light you crave.
Some skylights can be opened and closed to provide ventilation, and certain models can automatically close if it starts to rain. With those types of skylights, you won't have to worry about monitoring the forecast and closing them before you leave home.
Why You Should Have the Team at LaBrusciano Install Skylights
Installing skylights requires making significant changes to the roof. It's not something that most homeowners or general contractors can handle.
To install skylights, a contractor has to cut through the roof to create an opening, being careful not to damage other structures. After the skylights are installed, a roofer must seal the area and install flashing. If any part of the process is done incorrectly, you can find yourself dealing with roof leaks, plus damage to your walls, flooring, furniture, and electronics.
LaBrusciano Roofing & Exteriors has a team of highly trained professionals, and we hold ourselves to rigorous standards. We'll be sure that your skylights are installed correctly so you'll be able to take advantage of more sunlight and ventilation and you won't have to worry about leaks or other problems in the future. Contact us today at (610)624-8850 to get an estimate for skylight installation.