Flat Roof FAQs
Filed under: Roof Replacement
Comments: Comments Off on Flat Roof FAQs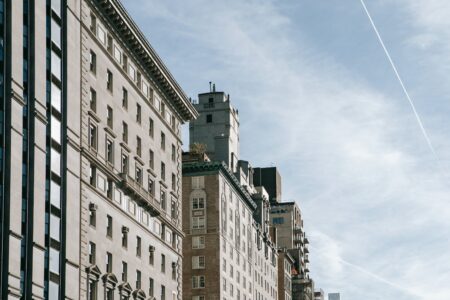 If you're planning to have a new house built, or if you're going to have an office building or warehouse constructed, you may not have given much thought to the type of roof it should have. People generally think of sloped roofs, but in some cases, a flat roof is an excellent option. Here are some flat roof FAQs to help you figure out if that's best solution for you!
Is a Flat Roof Completely Flat?
A flat roof looks flat, but it actually slopes slightly. The slope of the roof is so gradual that it's not noticeable from a distance, but it's enough to allow rain and melted snow to run off instead of collecting on the roof.
How Can a Flat Roof Make a Building Energy Efficient?
A flat roof can be made with reflective, light-colored materials that will help keep the inside of your home or business at a comfortable temperature. The roof's surface can be covered with a material that will help keep the interior of the building cool and save you money on your summer utility bills. A flat roof can also be insulated to help keep energy costs down.
How Can the Surface of a Flat Roof Be Utilized?
A flat roof provides space that can be put to good use. If you want to keep your utility costs down, you can install solar panels on the roof to generate power. An air conditioning unit can also be installed on the roof.
Another option is to use a flat roof as a garden. If you would like to grow vegetables but you have limited space in your yard, planting a garden on a flat roof is a good alternative.
How Long Does a Flat Roof Last?
Like any type of roof, a flat roof requires regular inspections and maintenance. If properly cared for, a flat roof can last more than 20 years. That can make it a smart financial investment.
Get a Quote for a Flat Roof!
If these flat roof FAQs have got you thinking that a flat roof might be the right choice for your home or business, contact LaBrusciano Roofing & Exteriors at (610) 624-8850. We can discuss your project and give you an estimate.