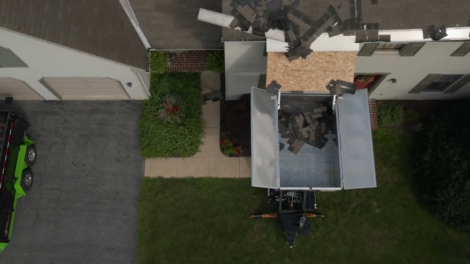 After repairing or replacing a roof, it's critically important for workers to clean up the yard and remove any old shingles, nails, and other debris. Objects left strewn on the ground can be tripping hazards, and a nail can cause serious injuries if a person or a pet steps on it. LaBrusciano Roofing & Exteriors has a team of expert roofers who will clean up after a job to keep you and your loved ones safe.
We Clean Up Debris As We Work
Often, roofing contractors remove old shingles and nails and toss them to the ground, then clean up later. Debris can get scattered all over the ground, in bushes, and in other areas where it can be difficult to spot. When workers clean up after a job, they might miss some nails. An unsuspecting child or pet can then step on a nail and get injured.
The team at LaBrusciano Roofing & Exteriors uses the Equipter RB4000 roofing trailer to minimize the amount of debris that winds up in the yard and to make cleanup more efficient. The trailer rises up to the roof so contractors can toss debris into it as they work instead of letting it fall to the ground and collecting it later.
Even when workers put old shingles and nails in the Equipter RB4000, it's possible for some debris to occasionally fall to the ground. Before we leave your property, we'll go around the house several times and use industrial-size magnets to collect any stray nails so you won't have to worry about anyone getting hurt.
Get an Estimate for Roof Repair or Replacement
Having our expert roofers clean up after a job is just one way that LaBrusciano Roofing & Exteriors demonstrates our commitment to providing top-notch customer service. We're also a 5 Star CertainTeed SELECT ShingleMaster. We hold ourselves to the highest standard of excellence in the roofing industry.
We have been serving both homeowners and businesses in Pennsylvania since 2009 and have worked hard to earn the respect of our community. If your roof needs to be repaired or replaced, call us today at (610)624-8850 to schedule an inspection and get an estimate.