Can You Replace a Roof in the Rain?
Filed under: Roof Replacement
Comments: Comments Off on Can You Replace a Roof in the Rain?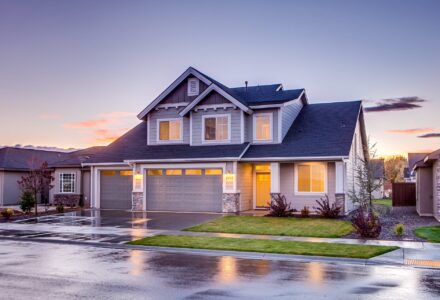 Roofing contractors prefer to work on dry, sunny days with mild temperatures, but Mother Nature doesn't always provide ideal conditions. Although it's possible to replace a roof in the rain, it's risky and not advisable for several reasons. Roof replacement should therefore be planned for a time when favorable weather is expected.
Problems That Can Arise If a Roof Is Replaced While It's Raining
If a roof is installed when it's raining, moisture can keep the shingles from adhering properly. In addition, moisture can get inside the house. That can lead to mold, rot, bulging, and ripples in roofing materials, as well as damage to the attic, insulation, drywall, and any belongings that you have stored upstairs.
Installing a new roof in the rain can void the warranty. Shingle manufacturers only warranty their products when they are installed under appropriate weather conditions.
Working on a roof in the rain is also dangerous for contractors. Wet shingles are slippery, which significantly raises the risk of falls and serious injuries.
Can Roofers Work in the Rain?
Sometimes, a day starts off with pleasant weather, but it unexpectedly starts raining. In that case, contractors can cover exposed sections of the roof to protect them from rain.
Get an Estimate for Roof Replacement
A roof replacement is a major project, and weather conditions at the time of installation can have long-lasting impacts. Workers should not plan to replace a roof in the rain, but they can deal with an unexpected rainstorm should one occur.
If your roof needs to be replaced, contact LaBrusciano Roofing & Exteriors at (610) 624-8850 to get a quote! We will work with you to schedule your roof replacement at a time when rain is not expected. If it should start to rain unexpectedly, our team will take measures to protect your home and belongings from damage.