My Roof Is Leaking: Now What?
Filed under: Roof Repair
Comments: Comments Off on My Roof Is Leaking: Now What?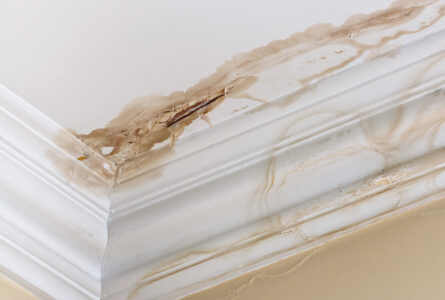 Water pouring from the ceiling might make you immediately feel a sense of panic, while a minor leak might not seem like that big a deal. Any roof leak is a serious problem that needs to be addressed right away. Here are some things that you should and shouldn't do when your roof is leaking.
Protect Your Belongings from Water Damage
If water is falling from the ceiling, move any furniture, electronics, carpet, or other items that could be damaged out of the way. Place a bucket or pot under the leak to collect water. Spread towels or blankets on the floor in the vicinity of the leak so they can soak up any water that doesn't land in the container.
Don't Ignore the Problem
In many cases, a roof leak simply causes discoloration on the ceiling. That might not seem like a major issue.
Think again. Even if you only see minor evidence of a leak, there might be much more significant problems that you can't see. Water can damage drywall, wood support structures, and insulation. It can also cause mold that can negatively impact your family's health. Have a contractor inspect the damage and repair your roof as soon as possible.
Don't Try to Fix It Yourself
Many homeowners like to perform DIY repairs to save money. When it comes to roofing issues, it's generally better to hire a contractor. Roof damage can be more serious than it first appears, and the repairs that are required are often beyond the scope of what the typical homeowner can handle.
If you fail to recognize the full scope of the problem, you might make repairs that don't address structural damage or mold, then wind up facing more serious issues in the future. If you make a mistake when fixing your roof, you might create new problems.
Trust LaBrusciano for Roof Repairs
If your roof is leaking, the team at LaBrusciano Roofing & Exteriors can take care of it. We've been serving Pennsylvania customers since 2009. Our company is a 5 Star CertainTeed SELECT ShingleMaster™ dedicated to meeting high standards. Contact us today at (610)624-8850 to get a quote for roof repairs.