Should You Have Your Roof Repaired or Replaced?
Filed under: Blog
Comments: Comments Off on Should You Have Your Roof Repaired or Replaced?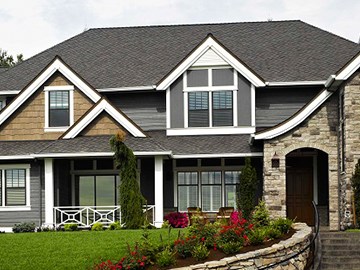 Having your roof leak can trigger a feeling of panic. Homeowners often fear that a leak means they will have to get their roof replaced. Sometimes that's necessary, but in many cases, repairs will suffice. The only way to know if you need roof repair vs. replacement is to have your roof inspected by a reputable contractor.
Signs That Your Roof Needs Work
Water coming through the ceiling is an obvious sign that you have a roofing problem. If your roof is leaking, you may not see water coming from the ceiling, but you may see water stains on the ceiling or walls. When you go to the attic, you may notice that insulation and belongings you have stored upstairs are damp.
When you look at your roof from the ground, you may see that some shingles are curled and loose. Some may have even been blown off the house in a recent storm. When you clean your gutters, you may notice granules that came off asphalt shingles.
How to Know If Your Roof Can Be Fixed or Should Be Replaced
It will be difficult for you to accurately assess your roof's condition if you don't have the training and experience to recognize problems and to understand how serious they are. A roofing contractor can conduct a thorough inspection on and around the roof, and accurately evaluate your roof's condition.
The age of your roof will be one of the most important factors that will influence your options. Each type of roofing material has an average lifespan. An experienced contractor can tell you how much longer your roof is likely to last based on when it was installed and its current condition.
Other factors can affect your roof's longevity. If the roof was installed incorrectly, if the house suffered serious damage in a storm, or if you or a previous homeowner neglected maintenance, your roof may not last as long as it should.
Roof Repair vs. Replacement? Ask the Experts at LaBrusciano
Since 2009, LaBrusciano Roofing & Exteriors has been helping Pennsylvania homeowners with roof repair and replacement, as well as other home improvement services. If you're concerned about the condition of your roof, a member of our team can inspect it and then explain your options. Call (610)624-8850 today to schedule a roof inspection.