Signs It's Time to Replace Your Roof
Filed under: Blog
Comments: Comments Off on Signs It's Time to Replace Your Roof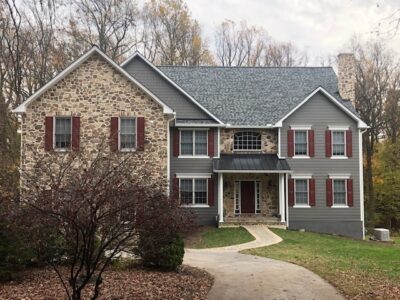 Roofing materials are built to be durable and long lasting, but repeated exposure to harsh weather, trees, and animals can take a toll. Check your roof on a regular basis and be on the lookout for any of these signs it's time to replace your roof.
Damaged Shingles
Asphalt roofing shingles can lose granules from the surface. Over time, that can make the shingles less effective. You may or may not be able to spot the change in the appearance of the shingles from the ground, but you may notice that granules are turning up in your gutters.
You may see other signs of storm damage or simple wear and tear. For example, some of the roofing shingles may be cracked, or some may have edges that are curled. There may also be water damage that you can't see underneath the shingles.
Moss
Parts of the roof that don't get a lot of sunlight can stay damp after it rains. Moisture can allow moss to grow, and moss can cause gradual damage to the roof. Even if you clean the roof and remove moss, there may be other issues that aren't visible. The roof may need to be torn off and replaced to take care of the problem.
Age
If you had the roof installed while you owned your home, you can check your warranty to find out its life expectancy. If the roof was installed before you bought the house, you should be able to find the installation date in your records.
Knowing the age and life expectancy of your roof can be helpful, but it won't necessarily last as long as it should. Even though the roof was designed to last for decades, it may wear out sooner if it was installed improperly or if you or the previous owner neglected maintenance.
Schedule a Roof Inspection with LaBrusciano Roofing & Exteriors
If you're concerned about the condition of your roof, or if it's just time for a routine inspection, call LaBrusciano Roofing & Exteriors. We are a 5-Star CertainTeed SELECT ShingleMaster™ dedicated to meeting the highest standard of excellence in the roofing industry. If you have noticed any signs it's time to replace your roof, call (610) 624-8850 to schedule an inspection and learn about your options.