Skylights: Are They Right for Your Home?
Filed under: Skylights
Comments: Comments Off on Skylights: Are They Right for Your Home?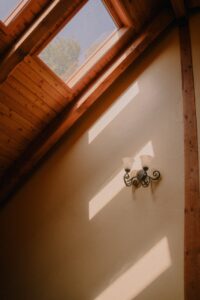 Skylights can let natural light into your house, and they can be appealing to potential buyers if you decide to sell your home in the future, but they're not right for every house. If you do decide that skylights are right for your home, be sure to work with a qualified contractor.
Reasons to Consider Installing Skylights
Skylights can let natural light into a room that might not otherwise have any. If a room in your house doesn't have a window and there is no way to add one, installing a skylight can be a good alternative.
If a portion of your house tends to be cold in the winter and you install skylights, sunlight can warm the area naturally. This can keep the space at a comfortable temperature without raising your heating bills.
Some skylights can also provide ventilation. If a room tends to get stuffy or you have to run the air conditioner a lot in the summer, installing skylights can improve airflow.
Downsides of Skylights
Skylights let natural light into a house, but that can be a double-edged sword. You may appreciate sunlight and heat on cold winter days, but the same room may be unbearably hot in the summer. It's important to think carefully about where to install skylights. You may need shades to reduce the amount of light they let in during the summer. We can also add blinds on your skylights, which are wildly popular and not overly expensive. Many, if not all the skylights we install today either have manual or solar blinds on them.
When skylights are installed, there is potential for roof leaks. Water can damage the roof, as well as flooring and belongings inside the house. This is why it's critical to choose a contractor who uses quality materials and whose workers have the appropriate training.
Choose the Right Company
Skylights can be costly, but they can make your home more comfortable and can help you sell it in the future. Don't go with the cheapest contractor. You can save money now, but you may spend a lot more down the road if the roof leaks and the interior of your home gets damaged.
Learn More about Skylights and Get a Quote
LaBrusciano Roofing & Exteriors can install skylights to improve lighting and ventilation in your home. If you aren't sure if skylights are right for your house and you need more information, call us at (610)624-8850.