What to Expect During Window Replacement
Filed under: Windows
Comments: Comments Off on What to Expect During Window Replacement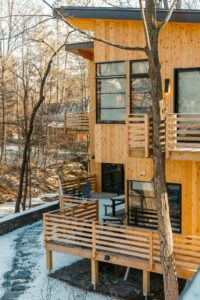 If you're thinking about having some or all of the windows in your house replaced, you most likely have questions about the process. Knowing what to expect during window replacement can minimize the stress on you and your family.
How to Prepare for Window Replacement
After you and the contractor discuss the types and numbers of windows to be installed and agree on the details, the contractor will order the windows. It may take several weeks for them to arrive. Factors such as demand for windows and whether the supplier has a backlog can affect the timeline.
You and the contractor will have to decide on an installation date that works for both of you. If you need the work to be done between certain hours of the day, discuss that ahead of time.
Before workers arrive to install the new windows, you should go through your house and yard and move anything that might get in their way, such as furniture, toys, and lawncare equipment. Creating plenty of space around the windows, both inside and outside the house, will make it easier for the installers to do their job and prevent delays and accidents.
How Contractors Will Protect Your Home
Workers will cover your floors, furniture, landscaping, and other parts of your property to prevent damage during the window installation process. They will collect debris in a dumpster and remove it from your yard when the work is done.
How Long Window Replacement Will Take
The contractor will give you a reasonable estimate on how long the installation process will take, but it may take longer in some cases. The amount of time required will depend on how many windows are being replaced, the types of windows you're having installed, how large they are, and the size of the crew. If workers find rotted wood or other damage that needs to be repaired before new windows can be installed, that can delay completion of the project.
Get a Quote for Replacement Windows
LaBrusciano Roofing & Exteriors can install replacement windows that can make your house more energy efficient and enhance its curb appeal. We install windows made by top manufacturers, such as Marvin Windows, Paradigm, and Pella. Call (610)624-8850 to get a quote or to learn more about what to expect during window replacement.